Top 10 Corrugated Metal Roofing & Siding Questions; ANSWERED
1. What is corrugated metal roofing & siding?
Corrugated metal refers to a classic, wavy-designed metal panel. The ribs repeat and are spaced close together, providing a consistent light texture for roofing and siding surfaces.  Used for decades throughout the world, this type of panel provides a durable, economical, and aesthetically pleasing option for metal roofing and siding.
Corrugated metal is an incredibly versatile panel type and can be used as a siding or roofing product. It can be installed over open framing (such as wood studs) or over a solid material such as plywood. Corrugated metal is often incorrectly seen as a commercial product when it's widely used as a contemporary roofing solution. Today it's featured in both modern, conventional, and historical building applications due to its timeless yet restrained aesthetic appearance.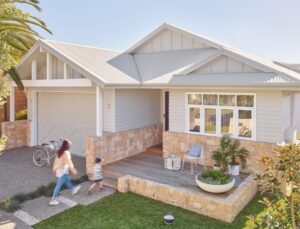 2. What types of corrugated metal products are there?
There are many different types of corrugated metal roofing. Panels typically differ based on the width of the panel rib and the depth of the panel rib. These factors directly influence the shadows cast by the panel and how pronounced the texture will appear on the building. Panel ribs can also impact the strength of the panel. In roofing applications, these corrugated products are applied in a vertical orientation to shed water effectively. In siding applications, corrugated panels can be used in a horizontal or vertical application.
ASC Building Products offers two different types of corrugated metal roofing and siding: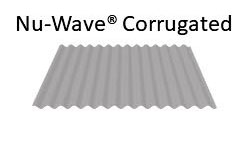 Nu-Wave® Corrugated is available in 22 & 24 ga and features a 7/8" panel depth with 2 11/16" rib spacing.
3. How are corrugated panels attached?
This type of panel is referred to as through or exposed fastened as fasteners are driven through the panel to attach it to buildings. Unlike standing seam roofing, the fasteners (or screws) will be visible from the exterior. These fasteners are typically supplied as color-matched to the panel. This means that from common viewing distances, the fasteners will not be prominent. Corrugated roofing and siding can be attached to a variety of material types, including wood and metal, and over both open and solid surfaces. The process of attaching these panels to surfaces is detailed in ASC Building Products' installation guides and videos.
4. What colors is corrugated metal available in?
Corrugated metal is manufactured (roll formed) using the same process as other metal roofing and siding products. Paint is applied before roll forming for a consistent and robust finish. This means that corrugated metal products are available in all the common colors found in other metal roofing and siding products. Check out our blog post on the latest color trends in metal.
ASC Building Products offer corrugated products in our Silicon Modified Polyester (SMP) paint system. This offers a variety of colors and long warranties at an affordable price point.
5. Will a corrugated metal roof rust?
Corrugated metal roofing and siding products are designed to last several decades. Before it's painted, the steel is coated with a metallic coating. The metallic coating, which uses either zinc or zinc and aluminum as a coating, provides a strong barrier to protect the base steel from the effects of corrosion. This barrier is incredibly strong, but like other building products, environmental conditions such as proximity to salt water, maintenance, and other environmental conditions can impact product lifespans.
6. Will a corrugated metal roof leak?
The susceptibility of leaking is primarily poor installation practices rather than product design. Proper installation practices will ensure that screws and other attachments are appropriately fastened. Fasteners that are over-tightened or under-tightened can be a cause for water infiltration. Following manufacturers recommended underlayment, closures, and sealants at panel extremities can help prevent leaks. Installing the correct trim pieces in the correct order also directly impacts performance. ASC Building Products publishes these details in its installation guides. Using an experienced contractor is a great way to prevent future issues for homeowners.
7. How can I buy corrugated metal?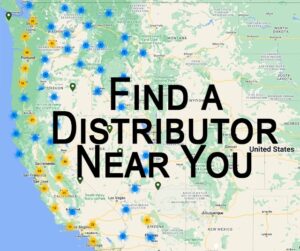 Each manufacturer will have a different way of purchasing corrugated metal. Not all corrugated metal is the same. Some products may not come with paint or may feature lower-performing paint systems in order to achieve an economical price point. When comparing manufacturers, always ensure you have all the relevant information, including the paint system, warranty, gauge, and manufacturing location.
ASC Building Products proudly manufactures its corrugated metal products in Northern California as made-to-order. This means the panels are produced in lengths customized to your project needs. Find a distributor near you with the Distributor Search.
8. How can I ensure corrugated metal is right for me?
Corrugated metal roofing and siding look great on a wide range of project types and building locations. The best way to see if a corrugated metal is right for your project is to visualize it or request product samples. ASC Building Products' visualizer allows users to upload photos of their projects and apply corrugated metal roofing and siding to building surfaces. The new AI technology automatically recognizes roof and siding areas, removing areas such as windows, doors, and trees in the foreground. This means that you can visualize corrugated products on your project in seconds. Explore ASC Building Products Visualizer Here.
9. How do I maintain corrugated metal?
Following simple care guidelines will help ensure that corrugated metal roofing and siding lasts several decades. To protect the paint, it's recommended to rinse the metal surface periodically, as this will prevent the accumulation of dirt and other organic materials from damaging the painted surface. The paint finish warranty will detail the recommended steps to follow. It is also recommended to periodically check the tightness of exposed fasteners every 10-15 years to ensure they are still appropriately attached. Visually inspecting the gaskets around these fasteners will help prevent future weather tightness issues.
10. Why should I choose ASC Building Products for my corrugated metal roofing and siding needs?
ASC Building Products has proudly been manufacturing roofing and siding products for over 50 years. This experience guarantees the production of high-quality panels that will stand the test of time. ASC Building Products also offers a broad range of corrugated metal roofing and siding resources, including a detailed list of accessories and trim pieces and installation resources for a variety of building uses. All products are also tested to meet the structural and fire-resistant properties of the International Building Code and California Building Code, ensuring that both contractors and homeowners can have peace of mind.
Did you find this article helpful?